Saturday February 4th - Pacha Presents...
CHRIS LIEBING @ Pacha
along with Sleepy & Boo

Get ready for a huge night of monster-sized techno as Germany's CLR head honcho CHRIS LIEBING makes his long-overdue return to Pacha!
Easily one of the world's biggest names in techno, Liebing brings his bone-crushing, no-nonsense sonic assault back to Pacha for the first time since 2006.
Basic's SLEEPY & BOO
get things started for Chris, the third time they've played with Liebing in NYC. With a loaded lineup of locals in the basement, and Liebing rocking an extended headlining set, don't miss this night of cutting edge music at Pacha.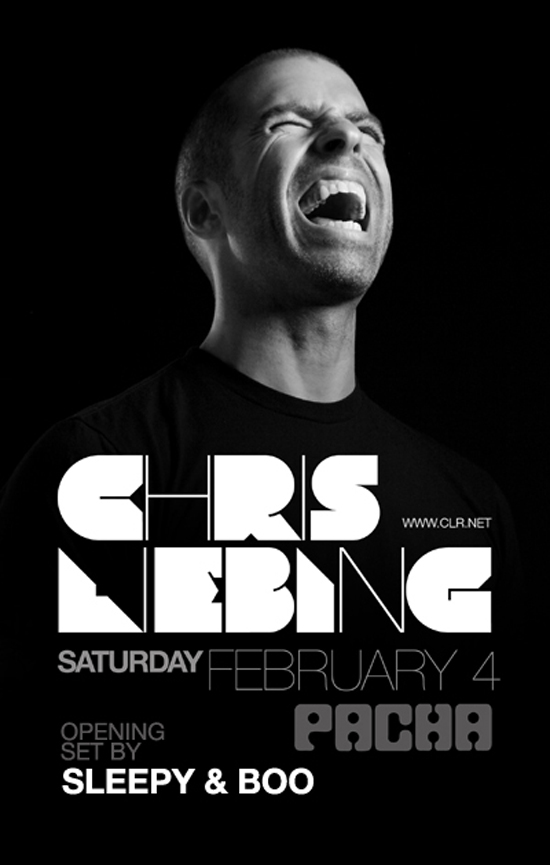 Featuring:
CHRIS LIEBING
CLR | www.clr.net
along with:
SLEEPY & BOO
basicnyc.com
in the Pacha basement - join our friends:
Chris Cornacchia | Gino Santos | Simon M | Michael Sullivan | Joe Salcedo | Mike ParraFor guest list + limited table reservations - rsvp@basicnyc.comWhere:
Pacha (618 West 46th Street)
When:
Saturday February 4th - 10pm - late
Price:
Email rsvp@basicnyc.com for guest list + table reservations
http://www.pachanyc.com/
http://www.basicnyc.com/
http://www.clr.net/
http://www.facebook.com/sleepyandboo
http://www.facebook.com/chrisliebingofficial
Last edited by sleepy&boo on Sun Feb 12, 2012 7:15 pm; edited 1 time in total
Coming up next Saturday....get your tickets for the party here - https://www.clubtickets.com/us/2012-02/04/pacha-nyc-presents-chris-liebing?subPromoter=Sleepy--Boo

Liebing is going to destroy Pacha!
Cannot wait to play with Chris on Saturday night. This is going to be immense!

If you want to come, email rsvp@basicnyc.com for our special guest list hookup – just $10 before 12am. We're opening so come early to catch all the music.


Similar topics
---
Permissions in this forum:
You
cannot
reply to topics in this forum