Saturday April 16th – District 36 Presents
VICTOR CALDERONE
Evolve @ District 36

District 36's new resident Victor Calderone returns for the next installment of his ground-breaking Evolve party.
Victor's on the decks all night with an upfront assault of his signature cutting edge percussive techno fusion. In the MIRF Room, NYC's That Kid Chris celebrates his birthday.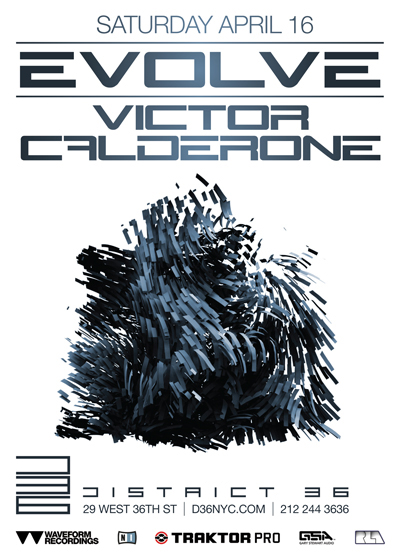 Featuring:
VICTOR CALDERONE
Waveform Recordings | victorcalderone.com
in the MIRF Room:
Birthday bash for
THAT KID CHRIS
djthatkidchris.com
For guest list + table reservations – email rsvp@basicnyc.com
For limited presale tickets:
Resident Advisor:
http://www.residentadvisor.net/event.aspx?247455
Where:
District 36 (29 West 36th Street – Btwn. 5th & 6th Avenues)
When:
Saturday April 16th - 10pm - late
Price:
For our guest list + table reservations - email rsvp@basicnyc.com
http://www.victorcalderone.com/
http://www.d36nyc.com
http://www.djthatkidchris.com
http://www.basicnyc.com
Last edited by sleepy&boo on Sun Apr 17, 2011 7:08 pm; edited 1 time in total
Victor's first set at District was mental...can't wait to hear what he has for the follow up.

Get your tickets here – best way to guarantee entry - http://www.residentadvisor.net/event.aspx?247455


For guest list and table reservations — rsvp@basicnyc.com

Presale tickets are recommended - http://www.residentadvisor.net/event.aspx?247455

Check out our Victor's new Pleasure Grip EP on his Waveform Recordings label – seriously good stuff, getting supported by Carlo Lio, Carl Cox, Joel Mull and many others.

http://beatport.com/s/t7B3mf

It's on tomorrow!!

For presale tickets - http://www.residentadvisor.net/event.aspx?247455

And for our list – rsvp@basicnyc.com



---
Permissions in this forum:
You
cannot
reply to topics in this forum