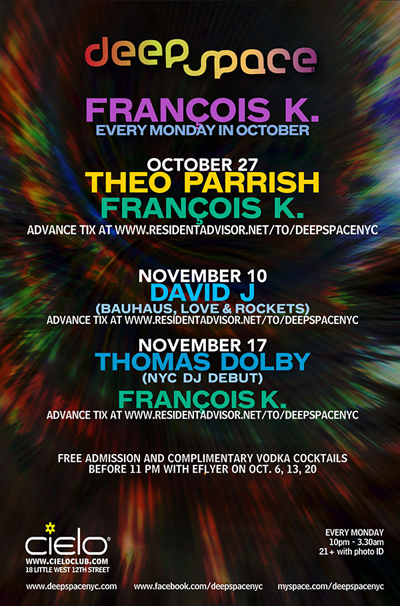 François K. every Monday in October 2014
October 27th: Theo Parrish + François K.
Tickets: http://www.residentadvisor.net/event.aspx?638610
In 1994, Theo Parrish received a Bachelor of Fine Arts degree from KCAI with a concentration in Sound Sculpture, a form of orchestration using live instruments, looped recordings, the human voice, and numerous other sound generation devices. While in Kansas City, Theo continued to impact and be impacted by dance music, helping to bring a dormant underground music scene to life.
Theo Parrish moved to Michigan in 1994, where he became heavily involved in Detroit's underground music scene. Since his arrival, he has helped spawn a resurgence of dance classic selections among local DJ talents.
'Love of the music should be the driving force of any producer, performer or DJ. Everything else stems from that core, that love. With that love, sampling can become a tribute; An expansion on ideas long forgotten, reconstruction, collage. Using the same understanding openly and respectfully can turn DJing into a spiritual participation. It can turn a few hours of selection into essential history; Necessary listening through movement.' This personal philosophy gives shape and direction to the distinctive sounds that are created by Theo Parrish.
November 10: David J (Bauhaus, Love & Rockets) + François K.
Tickets: http://www.residentadvisor.net/event.aspx?637615
He may be one of the fathers of the post-punk alternative music scene, but for David J's rare East Coast dj appearance, he will open up the vaults of his prolific music soul and play us a Deep Space set. David has been invited, in true Deep Space fashion, to share his love of all things spacey and dubby, but we suspect, he's still going to reveal his 80's roots in his set as well. We at Deep Space like to think we're open minded musically, and David will join us to champion our cause.
A founder member of one of the most influential bands since The Velvet Underground; namely BAUHAUS. Bauhaus spearheaded the post-punk Alternative music scene of the early '80's with a string of innovative albums and singles, including, for many, perhaps their defining moment, a song that is ranked as a classic and feasibly the pinnacle of the entire Gothic scene and beyond, the nine minute plus epic slab of industrial dub that is 'Bela Lugosi's Dead', featuring the lyrics of David J. Check out the astonishing opening scenes of Tony Scott's stylish Vampire flick 'The Hunger' to witness Bauhaus in all their dark glory, performing that very song whilst David Bowie and Catherine Deneuve stalk the disco for new flesh. Appearances on TV shows such as Top Of The Pops, The Old Grey Whistle Test and Riverside coupled with an electrifying live show propelled Bauhaus to the upper reaches of the UK charts before reaching their zenith in the summer of '83 and imploding, shattering into fragments of individual talent. It was that implosion that inadvertently gave rise to David's long and varied solo career. He was the first of the four members of Bauhaus to actively make that tentative step outside of the comfort zone of his original band by forming an unusual alliance with poet / painter, Rene Halkett, an original member of the very movement from which the band took it's name, fusing poetry with music for the highly acclaimed 'Nothing' /'Armour' single which was released on the 4AD label in 1981. A second collaboration in '84, with graphic novelist and highly acclaimed author Alan Moore entitled 'V For Vendetta' resulted in a now very highly sought after 12" E.P. A big screen adaptation of Moore's graphic novel, adopting the same title, was one of the blockbusters of 2005.
David's debut solo album, 'Etiquette of Violence' was released in 1983, followed two years later by 'Crocodile Tears and The Velvet Cosh'. Both albums being exemplary of his burgeoning talent asa songwriter. Next came a brief stint producing and playing bass with another underrated songwriting great,Pat Fish AKA The Jazz Butcher. This pairing producing two excellent albums.David then regrouped with two of his former Bauhaus band mates, guitarist, Daniel Ash and drummer, Kevin Haskins to form the hugely successful Love And Rockets, whose debut single hit gold status in Canada, followed by a top three US single with 'So Alive' which the band capped with a million selling album and sold out stadium tours. A self-imposed hiatus meant that David could now resume his on/off solo career. The heartfelt and intimate 'Songs From Another Season' and the sophisticated 'Urban Urbane' being the result. The former producing the first single to top the newly forged US Alternative Charts, namely, 'I'll Be You Chauffeur'. Solo endeavors were once again put on hold in '98 when Bauhaus was gloriously resurrected, initially three dates were booked at the Hollywood Palladium in Los Angeles, such was the demand for tickets however that all three shows were sold out in fifteen minutes! The success of these initial dates ultimately led a full blown world tour.2003 saw the release of another solo album, the achingly beautiful and poignant, 'Estranged'. Then came a second rebirth of Bauhaus which resulted from a spectacular appearance at Palm Springs' Coachella Festival in2005 where a memorable inverted 'hanging man' stage entrance by vocalist Peter Murphy ensured their performance was not only heralded as the event of the festival but would forever be included as a stand out init's annals.A highly acclaimed songwriter, often personal, often observational but not without flashes of influence from the dark underside of both theatre and literature – David has exquisitely captured incisive portraits of artists such as Jack Kerouac, Joe Orton, Antonin Artaud and more recently Elliot Smith, Jeff Buckley, Spalding Grey and Hank Williams. 2011's 'Not Long For This World' album, featured a set pertaining to the subject of mortality and achieved high critical acclaim. This year will see a thirty year anniversary reissue of that solo debut ,'Etiquette Of Violence' which will feature a lavish two disc set. In between his own works, guest appearances and production duties, David has also written and directed various stage productions including the spectacular multi-media staging of 'Silver For Gold' (The Odyssey Of Edie Sedgwick) which originally went up at the Met Theatre in Hollywood in 2008 and was then re-staged three years later at the celebrated REDCAT also in LA.
David J's new solo record, 'An Eclipse of Ships' ( which he describes as: ". . . essentially a journal of the heart and a paean to Woman as muse." ) will be released this year ( 2014 ) and in support of the project, David will be touring extensively with his new band, The Gentleman Thieves.
November 17th: Thomas Dolby (NYC dj debut) + François K.
Tickets: http://www.residentadvisor.net/event.aspx?637615
Deep Space is proud to celebrate our mad love of science, with an exclusive dj appearance by electronic music pioneer, multi-faceted producer and beloved MTV icon, Thomas Dolby (She Blinded Me With Science, Hyperactive, Magic's Wand). Yup, he'll be mixing an electrofunk set with some 80's classics.
For two over decades Thomas Dolby Robertson has combined music and technology to great effect. The advent of MTV brought Thomas his initial exposure in the early 1980's: His intelligent videos stood out from the pack, and his songs "She Blinded Me With Science" and "Hyperactive" became huge hits that have stood the test of time. His keyboard and production work put him in the studio with the likes of David Bowie, Stevie Wonder, Foreigner, Joni Mitchell and George Clinton. Numerous awards and five Grammy™ Nominations later, Thomas had achieved worldwide recognition as an artist.
Recognizing the opportunities for digital distribution of music, Dolby started Beatnik Inc. licensed technology to Nokia to co-develop the first embedded software synthesis "polyphonic" ringtone engine for mass-market devices. For 12 years, Dolby also served as musical director of the world-famous TED Conferences. His first new studio album in two decades, A Map of the Floating City, received critical acclaim and was accompanied by the self-created, multi-user social networking game The Floating City.
Dolby has been named the Johns Hopkins University's first Homewood Professor of the Arts — a position that will enable him to help create a new center that will serve as an incubator for technology in the arts. In addition to playing a leading role in designing the new center, Dolby also will co-teach a course at Hopkins, "Sound on Film," that will bring together film students from the Homewood campus with composing students at Peabody — and that will make use of computer techniques he pioneered.
Thomas Dolby completed his first film, The Invisible Lighthouse, in 2013. It documents the imminent closure of an historic lighthouse overlooking a mysterious ex-Military island near his coastal home in East Anglia, UK. The lighthouse will soon be abandoned to the North Sea; and this was so distressing to Dolby--who has fallen asleep to its rhythmic flash on his bedroom wall ever since he was a small boy--that he decided to mount a clandestine raid on the island in a high-speed RIB. Via a remote controlled quadrocopter camera, Dolby's film tells the story of the island's sinister past, and the controversial role the lighthouse played in Britain's most famous UFO incident. In live performance Dolby project his film while narrating and playing the musical score to picture.
Deep Space is an adventure into future dub, spacey vibes,
and abstract grooves featuring resident dj François K.
live on the mixingboard every Monday at Cielo.
No dress code - just an open mind.
Cielo, 18 Little W. 12th Street, NYC
between Washington St. and 9th Ave
subway: A, C, E, 1, 9, 2 or 3 at 14th St; L at 8th Ave
21+ with photo ID
www.deepspacenyc.com
www.facebook.com/deepspacenyc
www.myspace.com/deepspacenyc
Dub-inspired music from Deep Space Media:
www.wavemusic.com/wave-label/9



Number of posts

: 20


Registration date :

2013-01-28





Similar topics
---
Permissions in this forum:
You
cannot
reply to topics in this forum