Friday June 14th - #MarqueeFridays
SLEEPY & BOO + Friends
with VANJEE
at Marquee New York

We're super excited to announce that Sleepy & Boo + Friends is back, and we're bringing the party to Marquee on Friday June 14th!
This is our headlining night dedicated to Big Apple beats, and we cannot wait to feature some of NYC's finest local talent on the incredible sound system + lights at Marquee. Joining us is our
guest Vanjee
, one of NY's most celebrated underground DJs, along with our friend Dan Fischer. This is going to be a great night of music and we want ALL of you to be there - hit us up for our guest list or get tickets now on RA.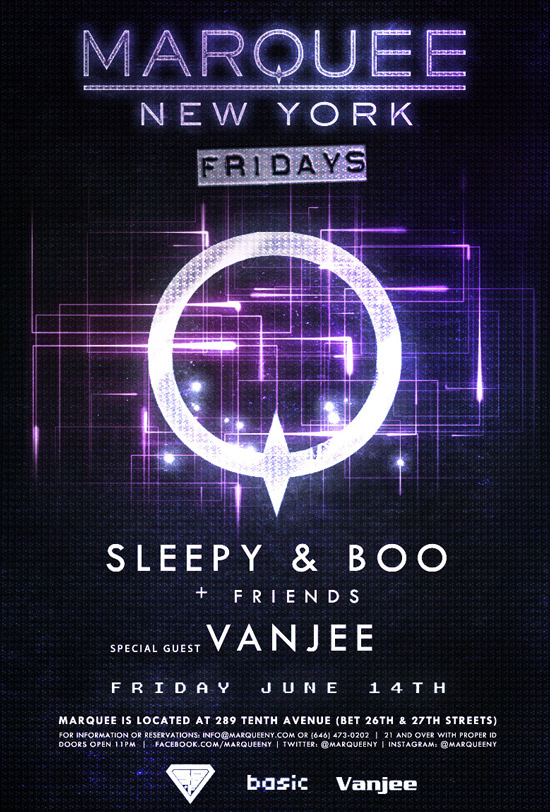 with music by:
SLEEPY & BOO
Basic | basicnyc.com
VANJEE
djvanjee.com
Presale tickets are recommended - get yours at RA - http://www.residentadvisor.net/event.aspx?482584To RSVP for our guestlist
- email marquee@basicnyc.com
For Marquee table reservations
- email marquee@basicnyc.com
When:
Friday June 14th (10pm - late)
Where:
Marquee New York (289 10th Ave. btwn. 26th + 27th)
Price:
marquee@basicnyc.com for our list
http://www.basicnyc.com/
http://www.marqueeny.com/
http://www.djvanjee.com/
https://www.facebook.com/sleepyandboo
http://www.twitter.com/sleepyboo
For tickets to all
Marquee Fridays
- http://www.residentadvisor.net/promoter.aspx?id=33876
Last edited by sleepy&boo on Wed Jun 26, 2013 9:51 pm; edited 1 time in total
To celebrate Sleepy & Boo + Friends coming to Marquee this Friday, we have some FREE ENTRY spots to give away - to enter, send your names to rsvp@basicnyc.com

Check out the interview we did with Pulse Radio ahead of this Friday's party - info on our partnership with Marquee and more!

http://pulseradio.net/articles/2013/06/marquee-sleepy-boo-and-friends-interview

Thanks for the love Pulse Radio.
Great to be a part of this article in the New York Times about Marquee and other dance venues.

http://www.nytimes.com/2013/06/13/fashion/the-night-comes-back-to-life-the-return-of-the-90s-dance-club.html?ref=fashion

Can't wait for tomorrow night!


Similar topics
---
Permissions in this forum:
You
cannot
reply to topics in this forum