Sunday February 19th – President's Day Weekend
CADENZA at District 36

featuring
LUCIANO and CESAR MERVEILLE
along with Sleepy & Boo

The mighty Cadenza crew comes to District 36 for a very special event - the D36 debut of LUCIANO!
One of the world's most iconic artists, Luciano will be making a rare NYC appearance on President's Day Sunday for an extended headlining set on the Gary Stewart sound system. Joining him will be Cadenza's rising star
Cesar Merveille
, along with Basic's
Sleepy & Boo
. With no work or school on Monday, do not miss this night of outstanding music and artistry - get your tickets now for the debut of Cadenza and Luciano at D36.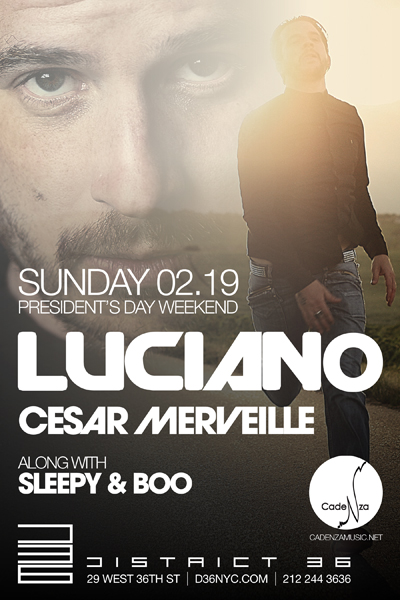 Featuring:
LUCIANO
Cadenza | cadenzamusic.net
CESAR MERVEILLE
Cadenza | cadenzamusic.net
along with:
SLEEPY & BOO
basicnyc.com
Presale tickets are recommended - get yours at Resident Advisor: http://www.residentadvisor.net/event.aspx?330198For table reservations + guest list - email rsvp@basicnyc.comWhere:
District 36 (29 West 36th Street btwn. 5th and 6th Avenues)
When:
Sunday February 19th (10pm - late) - President's Day Weekend – no school / work on Monday
Price:
Get tickets at http://www.residentadvisor.net/event.aspx?330198
http://www.cadenzamusic.net/
http://www.basicnyc.com/
http://www.d36nyc.com/
Last edited by sleepy&boo on Wed Feb 22, 2012 12:19 pm; edited 1 time in total
Get your tickets now on Resident Advisor - not sure how much longer these tickets will be available. Don't sleep.

Tickets: http://www.residentadvisor.net/event.aspx?330198

Can't believe this week is finally here!

Here's the latest Cadenza podcast to get you excited for Sunday - this one is from Andrea Oliva.

http://soundcloud.com/cadenzamusic/sets/podcast-sourcetocycle006

Get your tickets for the party at RA - http://www.residentadvisor.net/event.aspx?330198
If you'd like to make a table reservation for Sunday email info@basicnyc.com – they're filling up fast.

Only a few more days, let's do this!

Due to unfortunate personal circumstances, Luciano will not be coming to District 36 this Sunday. He has had to cancel his entire US tour and we will be having a makeup date with him in the Spring.

If you have a ticket - come this Sunday to D36 and use your ticket, and you'll get TWO drink tickets included with entry. Or you can save your ticket and use it for Luciano's Spring makeup date (which will be announced soon). Or you can request a refund of your ticket purchase. For non-ticket holders, entry is $10 before midnight. The line up will be Cadenza's ROBERT DIETZ with Sleepy & Boo and more to come; APlus artists will be in the MIRF room.

Tickets for Sunday with Robert Dietz are available now at RA - get $10 tickets (good before 12) or $20 tickets (good all night).

Get yours at http://www.residentadvisor.net/event.aspx?330198
Breaking news!

NIC FANCIULLI will be joining ROBERT DIETZ this Sunday at District 36. Cadenza meets Saved!!! Let's do this.

To get you ready for Sunday - Nic Fanciulli's December Worldwide Sounds show, with guest mix from Robert Dietz!

Check it out - http://soundcloud.com/nicfanciulli/nic-fanciulli-worldwide-6


---
Permissions in this forum:
You
cannot
reply to topics in this forum