Friday October 22nd - REFUGE and Original Brooklyn present
MONSTER MASH
"It was a graveyard smash!"

It was late one night, and the boys from REFUGE were hard at work in the lab. When to there SURPRISE!
They heard a noise coming from down below. They put there ear to the ground and all they could hear was the rumble of BASS. Quickly as they could, they ran to the Electric Warehouse. there eyes beheld an eerie sight; for Original Brooklyn was back at it again... They had invited all the ghouls to come from there humble abodes and get a jolt of ELECTROCLASH by Legendary Larry Tee.
They were all out to do the Mash. The Monster Mash. And it was a going to be a grave yard smash.
The Scene was rockin' all were digging the sounds. Woody Mcbride was bopping his head along. AFROBETA def had it going on! JON H was doing the FortKnox funk; as the boys with the X started to go Insane! Sleepy & Boo were throwing it down on the dance floor with Nigel Richards rocking out! DB & Jason Jinx were def keeping it OLD SCHOOL.
They did the Mash. THE MONSTER MASH! It caught on in a Flash.
Up in the tower; Hellfire Machina, Human?, Dali, Parallax, John Bas, DJ Ritalin, Courage, V Tone, Sneaker & the Dryer, Atom C and DJ SAV were doing the Translyvania Twist while on the decks!
It's now the Mash. The Monster Mash! It's a grave yard smash!
Everything was cool; the boys from REFUGE joined the PARTY! The Monster Mash is the hit of the Night! For all you Partiers out there, This Mash is for you! When you get to the Door; tell them Sam Black sent you...
So you can Mash! Do the Monster Mash! It's the Grave Yard Smash! You'll catch on in Flash! Do the Monster Mash!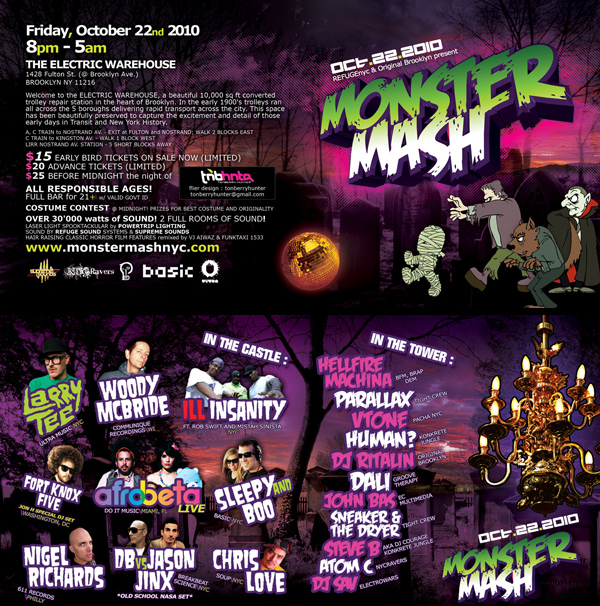 Your DJs/Performers for the night:
In the CASTLE:LARRY TEE (ULTRA MUSIC) NYC
WOODY MCBRIDE aka DJ ESP (Communique Recordings) WI
ILL INSANITY ft. ROB SWIFT, MR. SINSTA (Premiere Artist Group) NYC
AFROBETA (DO IT MUSIC) MIAMI, FL *LIVE*
JON H of FORT KNOX FIVE :: DJ SET :: (FORTKNOX RECORDINGS) WASHINGTON DC
SLEEPY & BOO (BASIC NYC) NYC
NIGEL RICHARDS (611 RECORDS) PHILLY
DB VS JASON JINX (BREAKBEAT SCIENCE) NYC *OLD SCHOOL NASA SET*
LOVE SOUND PROJECT (SOUP) NYC
In the TOWER:
HELLFIRE MACHINA (Brap Dem, BFM)
PARALLAX (Tight Crew)
HUMAN? (Konkrete Jungle)
RITALIN (Original Brooklyn)
DALI (Groove Therapy)
JOHN BAS (EC Multimedia)
SNEAKER & THE DRYER (Tight Crew)
V TONE (www.VTONE.info)
STEVE B aka DJ COURAGE (Konkrete Jungle)
ATOM C (NYC RAVERS)
DJ SAV (ELECTROWARS)
DOORS: 8PM
PRICE:
For guestlist email rsvp@basicnyc.com
$15 EARLY BIRD TICKETS ON SALE NOW (LIMITED)
$20 ADVANCE TICKETS (LIMITED)
$25 BEFORE MIDNIGHT
AGES:
ALL RESPONSIBLE AGES!
FULL BAR for 21+ w/ VALID GOVT ID
LOCATION:
Welcome to the ELECTRIC WAREHOUSE, a beautiful 10,000 sq ft converted trolley repair station in the heart of Brooklyn. In the early 1900's trolleys ran all across the 5 boroughs delivering a fast easy rapid transport across the city. This space has been beautifully preserved to capture the excitement and detail of those early days in Transit and New York History.
THE ELECTRIC WAREHOUSE
1428 Fulton St. (@ Brooklyn Ave.)
BROOKLYN NY 11216
DIRECTIONS:
A, C TRAIN to NOSTRAND AV. - EXIT at FULTON and NOSTRAND; WALK 2 BLOCKS EAST
C TRAIN to KINGSTON AV. - WALK 1 BLOCK WEST
LIRR NOSTRAND AV. STATION - 5 SHORT BLOCKS AWAY
FULL INFO & TICKETS: http://www.monstermashnyc.com/
COSTUME CONTEST @ MIDNIGHT! PRIZES FOR BEST COSTUME AND ORIGINALITY
OVER 30'000 watts of SOUND! 2 FULL ROOMS OF SOUND!
LASER LIGHT SPOOKTACKULAR by POWERTRIP LIGHTING
SOUND BY REFUGE SOUND SYSTEMS & SUPREME SOUNDS
HAIR RAISING CLASSIC HORROR FILM FEATURES remixed by
VJ AIWAZ & FUNKTAXI 1533



Number of posts

: 1389


Registration date :

2008-07-07



Monster Mash mini site! http://www.monstermashnyc.com/

This should be a good time.



Number of posts

: 1389


Registration date :

2008-07-07




---
Permissions in this forum:
You
cannot
reply to topics in this forum