Sunday July 19th - free daytime party!
BASICly SULLIVAN ROOM @ WATER TAXI BEACH

The Sullivan Room and Basic NYC are teaming up for another afternoon fiesta of beats, beach and BBQ at NYC's favorite outdoor party spot!
Come rock out with our special guest Hector Romero - and an all-star lineup of Sully favorites - for this free day of fun in the sun.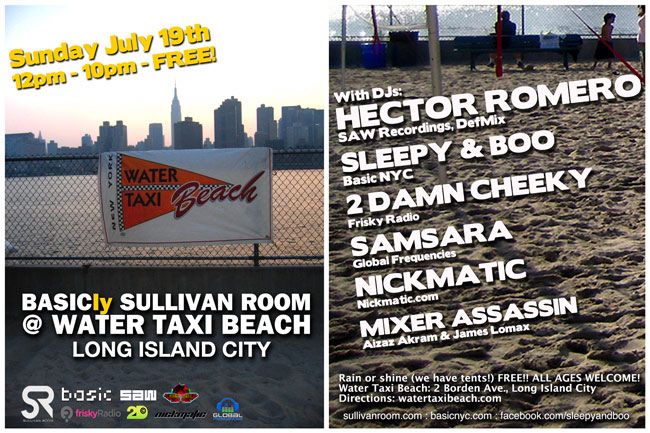 With DJs:
HECTOR ROMERO (SAW Recordings, DefMix)
Sleepy & Boo (Basic NYC)
2 Damn Cheeky (Frisky Radio)
Samsara (Global Frequencies)
Nickmatic (Nickmatic.com)
Mixer Assassin (Aizaz Akram & James Lomax)Where:
Water Taxi Beach (2 Borden Ave., Long Island City)
For directions: watertaxibeach.com
When:
12pm - 10pm
Price:
TOTALLY FREE!!
Email djboo@basicnyc.com for more info
http://www.basicnyc.com
http://www.sullivanroom.com
http://www.watertaxibeach.com
http://www.defmix.com
http://www.friskyradio.com
http://www.nickmatic.com
http://www.globalfrequencies.com
All ages...free...burgers on the beach...this is going to be nutso!!
Live set from Hector Romero @ Mania - Sunny Beach, Bulgaria! 6.27.09
Enjoy

I wish I was there

http://www.sawrecordings.com/download/Hector_Romero_Live_At_Mania_Club_Sunny_Beach_Bulgaria_6_27_09.mp3.zip

---
Permissions in this forum:
You
cannot
reply to topics in this forum