EACH TEAM HAS CONTRIBUTED TO SOME OF THE MOST HIGHLY AWAITED EVENTS
THAT HAVE TAKEN PLACE IN THE NEW YORK CITY TRI-STATE AREA. THEY BROUGHT
OUT THE PRESENCE OF SOME RENOWNED MUSIC ENTERTAINERS SUCH AS, MAINO
BROUGHT TO YOU BY FULLY FOCUS, RON BROWZ AND JIM JONES BROUGHT TO YOU
BY L.I.V.E. MONEY AND MOST HATED, RED CAFE BROUGHT TO YOU BY B.D.U AND
D.M.E. THESE MEN HAVE MANAGED A WAY TO ELICIT THE MOST ATTRACTIVE
PEOPLE IN ALL THE FIVE BOROUGHS FOR EVENTS THAT HAD MEN SCREAMING "SHE
GOT IT" LEADING TO AFFAIRS THAT ENDED UP WITH "MODELS AND BOTTLES"
WHERE FABULOUS FEMALES WERE "INDECENTLY EXPOSED" AND SHORTLY AFTER
TAKING YOU TO "HEAVEN" AT THEIR ALL WHITE AFFAIR. JOIN THEM AS THEY
TEAM UP WITH QUEENS NATIVE AND NO. 1 POWERHOUSE DA CYPH, WHO SHUTS DOWN
EVERY EVENT THEY'RE ON BY THEMSELVES,
TO
BRING YOU THE MOST INTENSIFY AND MOST ANTICIPATED PARTY OF THE OF THE
CENTURY AS THEY PUT ON FOR EVERY CITY, EVERY PARTY GO'ER, AND EVERY
GIRL WHO CAN THROW ON A FREAKUM DRESS LIKE NOBODIES BUSINESS. LADIES
AND GENTLEMEN NEED I SAY MORE !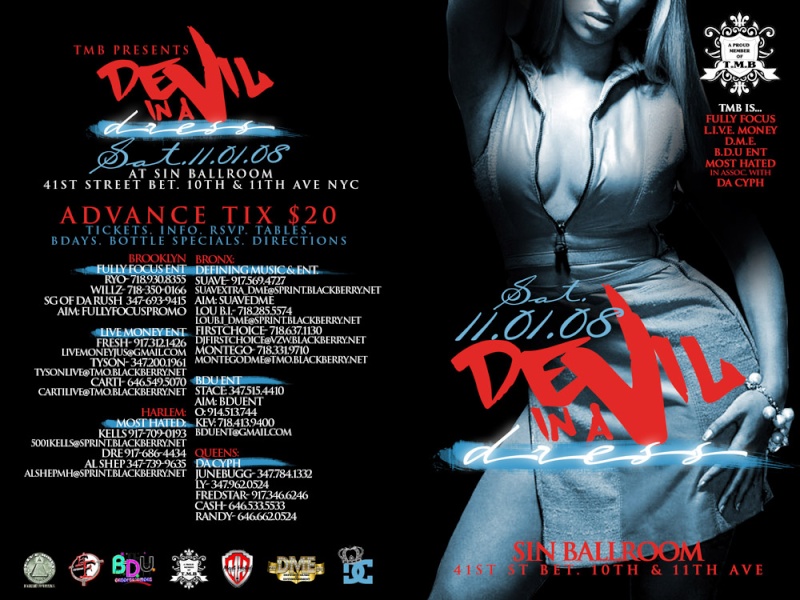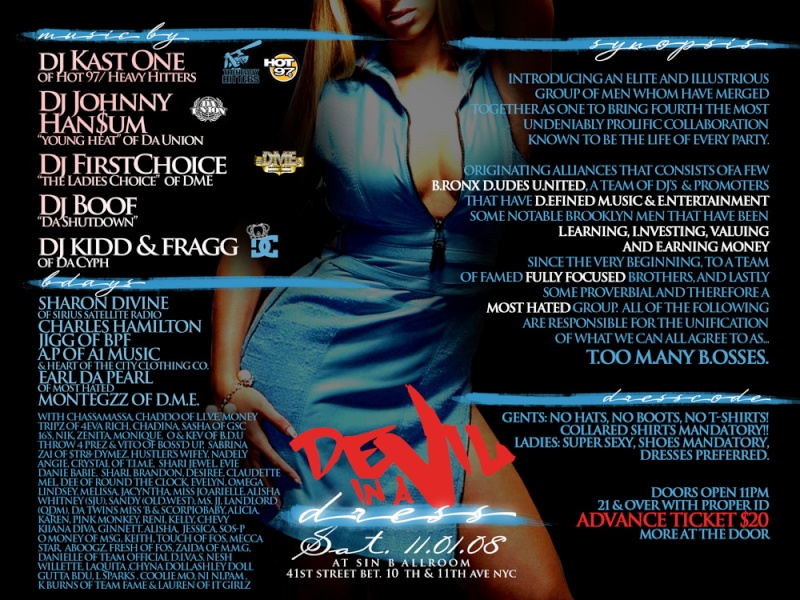 SATURDAY NOV 1ST 2008
DA CYPH & TMB (FULLY FOCUS, L.I.V.E. MONEY, D.M.E., B.D.U ENT & MOST HATED) PRESENT:
"DEVIL IN A DRESS"
EVERY GIRL IS 1
@ SIN BALLROOM
41ST BET. 10TH & 11TH AVE
MANHATTAN NY,
MUSIC BY:
DJ KAST ONE (HOT 97 / HEAVY HITTERS)
DJ JOHNNY HANSUM "YOUNG HEAT" (DA UNION)
DJ FIRST CHOICE "THE LADIES CHOICE" (D.M.E.)
DJ BOOF "DA SHUTDOWN"
DJ KIDD & FRAGG (DA CYPH)
CELEBRATING THEIR BIRTHDAYS ARE:
SHARON
DIVINE (SIRIUS SATELLITE RADIO), CHARLES HAMILTON, JIGG (BPF), A.P (A1
MUSIC & HEART OF THE CITY CLOTHING CO.) EARL DA PEARL (MOST HATED),
MONTEGZZ (D.M.E), CHASSAMASSA, CHADDO (L.I.V.E. MONEY), TRIPZ (4EVA
RICH), CHADINA, SASHA (GSC), 16'S, NIK, ZENITA, MONIQUE, O & KEV
(B.D.U ENT), THROW 4 PREZ & VITO OF BOSS'D UP, SABRINA, ZAI
(ST8-DYMEZ), HUSTLER'S WIFEY, NADELY, ANGIE, CRYSTAL (T.I.M.E), SHARI
JEWEL, EVIE, DANIE BABIE, SHARI, BRANDON, DESIREE, CLAUDETTE, MEL,DEE
(ROUND THE CLOCK), EVERLYN, OMEGA, LINDSEY, MELLISA, JACYNTHA, MISS JO,
DA TWINS, MISS B & SCORPIO BABY, ALICIA, KAREN, PINK MONKEY, RENI,
KELLY, CHEVY, KIIANA DIVA, GINNETT, ALISHA, JESSICA, SOS-P, O MONEY
(MSG), KEITH, TOUCH & FRESH (FOS), MECCA, STAR, ABOOGZ, ZAIDA
(M.M.G), DANIELLE (TEAM OFFICIAL DIVAS), NESH, WILLETTE, LAQUITA, CHYNA
DOLL, ASHLEY DOLL, GUTTA (B.D.U ENT), L SPARKS, COOLIE MO, NI NI, PAM,
K BURNS (TEAM FAME), LAUREN (IT GIRLZ)
DRESS CODE:
GENTS: NO HATS, NO BOOTS, NO T-SHIRTS
COLLARED SHIRTS MANDATORY!!
LADIES: SUPER SEXY, SHOES MANDATORY
DRESSES PREFERRED!!!
DOORS OPEN @ 11PM
21 & OLDER WITH PROPER I'D
ADVANCE TICKETS ARE $20
MORE AT DOOR
DO REMEMBER THAT NIGHT WE HAVE A POWER HOUR DAYLIGHT SAVINGS TIME CLOCK GOES BACK IN HOUR SO THAT'S A EXTRA HR. OF FUN!!!!!!
BOTTLE SPECIALS & DRINK SPECIALS ALL NIGHT LONG !!!!
FOR TICKETS OR ANY ADDITIONAL INFO CONTACT:
DACYPHENT@GMAIL.COM OR
LY
347-962-0524
.. LL COOL LY85
L1900HUSTLER@TMAIL.COM
LYDIDDY@GMAIL.COM



Number of posts

: 24


Age

: 33


Location

: QUEENS, NEW YORK


Registration date :

2008-07-08




---
Permissions in this forum:
You
cannot
reply to topics in this forum